Ancona Ducks: A Critically Endangered Bird
Great for the self-sufficient homestead. Fun to raise.


Ancona Duck - Hardy, All Purpose Domestic Waterfowl

Ancona ducks make good pets because they do not migrate, do not even fly, and like staying close to home. They are calm, and if handled when young are friendly and affectionate.

The hens are excellent layers usually laying 210-280 white, cream, or blue eggs each year. Our Ancona ducks lay off-white eggs. Their eggs are larger than chicken eggs.

They grow fairly quickly producing high quality meat that is more flavorful and less fatty than Pekin ducks (Long Island duck). We had one male duck for Christmas dinner and were very happy with it. They are a great dual purpose (meat and egg) bird.


Ancona Ducks are robust and capable of enduring hard conditions. They adapt well to various environments. (Of course, the better their environment, the healthier they will be.) They are good foragers even being able to eat banana slugs (a large land slug) and other unwanted garden pests. They like greens and insects.

They are large birds so most winged predators leave them alone. It is good to provide some protection against predators such as dogs. An outer perimeter fence is a good idea.

We let our chickens and ducks share the same coop though some recommend keeping them apart. They get along fine. They lay their eggs in the same nest boxes as the chickens. During the day the ducks forage together as a group.

The 2 photos above are 2 drakes and 2 hens. The drakes are bigger. Drakes also have a curl at the end of their tail. You can see a curled tail in the second photo.

Ancona Breed Characteristics

They are descended from Indian Runner ducks and Belgian Huttegem ducks. This is the same foundation stock as Magpie ducks and Dutch Hookbills. They were developed in England during the early 1900s but were not shipped to the United States until 1984.

Ancona ducks weigh about 6 to 6.5 pounds as adults. Males weigh more than females. It is stockier than the Magpie duck. Adult plumage is white with pinto (dappled, speckled) markings (each animal has a different pattern). Colors include black and white, blue and white, chocolate and white, silver and white, lavender and white, and tri-colored. The most common is black and white. Any pattern combination is acceptable as long as there are broken colors on the duck.

Some are all white though this is not the breed standard. Ducks with an all white bib are not the breed standard either. The Ancona is not yet recognized by the American Poultry Association. Unique patterns are preferred. Birds with high egg production are also preferred.


Chocolate color is sex-linked (carried by the male only) and recessive. If a chocolate drake (male) mates with a black hen, all female offspring are chocolate and all male offspring are black. A black drake mated to a chocolate hen produce only black offspring.

The neck is usually solid white. The bill is yellow with dark green or black spotting. The legs and feet are orange with black or brown markings (spotting) that increase with age.

Ducklings are yellow with spots or speckles. Yellow markings turn white when they become adults. When brooding ducklings, they like a shallow plate of water to bathe in. But it should not be too deep because ducklings can drown. Raising them is the same as chickens except they need more B vitamins than chicks. Get a good book on ducks such as "Storey's Guide to Raising Ducks". They are a lot of fun.

Raising Rare Duck Breeds

Ancona Ducks are considered rare (critical status) by the American Livestock Breeds Conservancy (ALBC). In 2000 ALBC's census of domestic waterfowl in North America found only 128 breeding Ancona ducks.

Ancona ducks are a lively bird to raise. They are fun to watch as the group moves around the pasture. If they are disturbed by what is going on, they make noise to let everyone know.

They love having a pond but if you don't have one you can use a kiddie pool that has a ramp in and out of the pool. In the winter we have to put the pool away but we bring it out again in the spring.

The photo to the left is 2 hens. One is black and white. The other is brown and white. Notice the speckled beak.

The book "The Resilient Gardener: Food Production and Self-Reliance in Uncertain Times" by Carol Deppe has a chapter on Ancona ducks.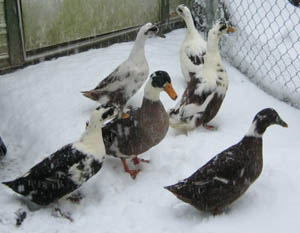 Ancona ducks like snow. They especially like it when it rains.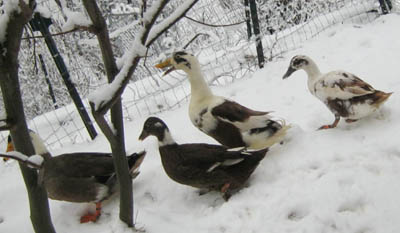 Buying Ancona eggs, ducklings and ducks.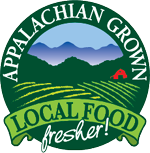 Nantahala Farm in the Mountains of Western NC
Macon County (close to Cherokee, Graham and Swain Counties)
Topton, North Carolina 28781
Location Map
By appointment only
828-321-9036
Please call between 8 am and 9 pm Eastern time, any day.
Email:
orders@healthtreasures.com

Please support small farms and sustainable living.
We are happy to answer your questions about farming and gardening.
Let us know any comments or suggestions you have about our site, farm or products.
We can add your testimonials so others know your experiences and ideas.
We may be interested in barter. Let us know what you have to offer.
We ship to the United States only.
Give seeds for Christmas and Hanukkah, your friends and family will love it.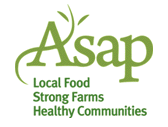 RENT OUR VACATION HOME

Rental House on Farm
ANIMALS AND POULTRY FOR SALE

Toggenburg Goat
|
Dominique Chickens
|
Bantam Chickens
Ancona Ducks
BUY BEANS AND PEAS FOR PLANTING

October Beans
|
Rattlesnake Beans
|
Greasy Beans
Mammoth Melting Peas
LEAFY GREENS: SEEDS FOR PLANTING

Perennial Sea Kale Seeds
|
Mizuna Seeds (Japanese Greens)
BUY SEEDS, ROOTS, BULBS AND PLANTS

Comfrey Plants and Seeds
|
Perennial Bronze Fennel Seed
|
Mangel Beet Seeds
Music Garlic
|
Ferry-Morse Seed Packets
|
Perennial Plants
PURCHASE HERBS, FERTILIZERS, FEED SUPPLEMENTS

Frontier Comfrey: Dried Root and Leaf
|
Organic Thorvin Kelp from Iceland
Azomite Trace Minerals Powder
BOOKS, VIDEOS, HEALTH SUPPLIES, AND FARM EQUIPMENT

Farm and Garden Calendar
|
Farm & Health Books
|
Buy 12 Health & Diet Books, Bulk
Dr Day Workbook & VHS Tapes
|
Future of Food DVD
|
Krystal Salt Rock Crystals
Comfrey Booklet
FARM SITE RESOURCES

Home
|
Farm/Garden Advice by Phone
|
Pay with Paypal
Pay with Major Credit Cards
|
Privacy and Refund Policies

"Western North Carolina Farm & Garden Calendar" on Facebook.
All rights reserved. ©2008-2013