All Seeds, Roots and Plants for Sale
Shipping discounts available if you order more than one product. Kelp helps seeds germinate.
See below for ways to pay. Makes a great gift. We can ship to a friend.


ORGANIC MUSIC GARLIC BULBS FOR SALE
Seed Garlic, Porcelain Hardneck, Allium sativum
Too much rain this year. The harvest is not good. Try us again August 2015.
Music Garlic Seeds for Planting
Allium sativum subspecies ophioscorodon
Allium sativum "Music"

Grow your own garlic. It is easy to grow and delicious to eat. Music (Musik) Garlic is very popular.

Music Garlic is an exceptional producer. At Michigan State University, it produced more than all other garlic in the trial with a harvest of more than 13,500 pounds an acre.

It is a beautiful plant. This species has high levels of allicin which is a strong anti-oxidant that is good for you.

Music garlic is originally from Italy. Then imported into Canada. From there to the United States.


Large, Easy to Peel, and Sweet

Music garlics are white skinned with a hint of pink. There are 4-6 cloves per bulb with each clove weighing about 4-5 ounces. These big cloves are easy to peel.

They taste mild to medium hot when cooked. They are hot when eaten raw.

The sweet, complex, robust and pungent flavor remains even when cooked. It is good baked, roasted, fried or stewed.


Hardneck and Softneck Garlics

A "bulb" is the entire bottom of the garlic plant. It is made up of all the "cloves" (bulblets) with a whitish, papery covering. The cloves are wedge shaped. You pull apart the bulb, and plant or eat the cloves.

There are 2 types of garlic: hardneck and softneck.

Music garlic is a large hardneck. Hardnecks have a hard stalk (scape) that coils at the top. At the top little baby bulbs (bulbils) grow in a ball. Each little bulb starts off with a flower. Then later turns into a mini-bulb. This growth pattern is called topsetting.

Hardneck garlic has fewer, larger cloves then softneck with one circle or layer of cloves. Softnecks have an inner and outer circle of cloves. The outer bulb wrapper (paper-like) is thinner in hardnecks. Hardnecks have more subtle flavor than softnecks. Hardnecks are closer to wild garlic than softnecks.


Cold Tolerant, Vigorous Garlic

Music Garlic is good for USDA Hardiness Zones 3 to 8. It is very cold tolerant, hardy and vigorous so it is good to grow in northern locations. It overwinters very well.

It starts sprouting earlier in late winter than most other types of garlic. It matures earlier than most other varieties.

Garlic likes full sun. It likes soil pH of 6-7. It is usually planted in the fall around mid-October to mid-November depending on your location. It can be planted early spring but you get bigger bulbs if planted in the fall.


Easy to Grow

Plant each clove 4-6 inches apart in rows 8-10 inches apart. Cover with 1-2 inches of soil. In colder climates 2 inches is better. Add an inch or so of mulch on top.

Most of the time the bulbs start to sprout out of the ground in the fall. If not, they will sprout in the spring. Leaves that come up in the fall die back in cold weather but that is OK. They will grow again when the weather warms.

In March fertilize the bulbs. In early June it sends up the flower stalk (scape). It can grow up to 4 feet tall including the stalk and flowers.

Music Garlic is easy to grow and resistant to disease. It has deep roots.

Bulbils from the flower can also be planted. A tiny garlic plant grows that takes a few years to reach full size. Each year the small bulb is divided up into separate cloves and replanted.


Harvesting Garlic

You can let the flowers grow and then plant the baby seeds in it. Or when the stalk is about 1 feet tall you can cut it off and eat the stalk.

If you don't want to save the small seeds, then it is better to cut off the stalk/flower even if you don't want to eat it. This way the energy of the plant goes to the bulb rather than to the flower.

Harvest your garlic when about half of the leaves are yellow. Handle gently when digging so you do not bruise the garlic bulb.


Storing Garlic

Music Garlic keeps a long time: 9 months to a year. Store in a dry, cool place that has good ventilation.

Shipped Starting in August

We grow our Music Garlic here in North Carolina on our organic farm. It is shipped starting in August. Quantities are limited. Ask to be put on our waiting list.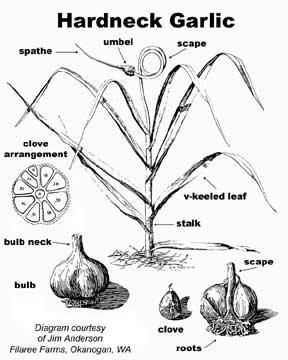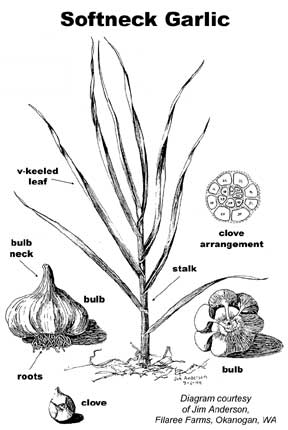 Shipping & Handling: $4.95

Contact us if you are ordering more than one type of seed, root or plant.
We can discount shipping.

All seeds are shipped by First Class or Priority Mail through the Post Office.
There is no pick up at the farm.

For survival farming in hard times in zones 5/6/7,
see our Western North Carolina Farm and Garden Calendar.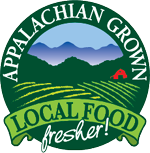 Nantahala Farm in the Mountains of Western NC
Macon County (close to Cherokee, Graham and Swain Counties)
Topton, North Carolina 28781
Location Map
By appointment only. Please email or call before coming over.
828-321-9036
Please call between 9 am and 9 pm Eastern time, any day.
This is a landline, not cellular, so I can't receive texts.
Email:
orders@healthtreasures.com

Please support small farms and sustainable living.
We are happy to answer your questions about farming and gardening.
Let us know any comments or suggestions you have about our site, farm or products.
We can add your testimonials and photos so others know your experiences and ideas.
We ship to the United States only.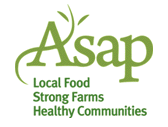 RENT OUR VACATION HOME

Rental House on Farm
ANIMALS AND POULTRY FOR SALE

Toggenburg Goat
|
Dominique Chickens
|
Bantam Chickens
Ancona Ducks
BUY BEANS, PEAS AND CORN FOR PLANTING

October Beans
|
Rattlesnake Beans
|
Greasy Beans
Black Turtle Beans
|
Mammoth Melting Peas
|
Appalachian Field Corn
LEAFY GREENS: SEEDS FOR PLANTING

Perennial Sea Kale Seeds
|
Mizuna Seeds (Japanese Greens)
BUY SEEDS, ROOTS, BULBS AND PLANTS

Comfrey Plants and Seeds
|
Perennial Bronze Fennel Seed
|
Mangel Beet Seeds
Stinging Nettle Seed
|
Music Garlic
|
White Yarrow Seeds
Perennial Plants
PURCHASE HERBS, FERTILIZERS, FEED SUPPLEMENTS

Frontier Comfrey: Dried Root and Leaf
|
Organic Thorvin Kelp from Iceland
Azomite Trace Minerals Powder
|
Rock Dusts for Soil Health
BOOKS, VIDEOS, HEALTH SUPPLIES, AND FARM EQUIPMENT

Farm and Garden Calendar
|
Future of Food DVD
|
Krystal Salt Rock Crystals
Comfrey Oil
|
Comfrey Booklet
FARM SITE RESOURCES

Home
|
Farm/Garden Advice by Phone
|
Pay with Paypal
Privacy and Refund Policies
All rights reserved. ©2008-2014