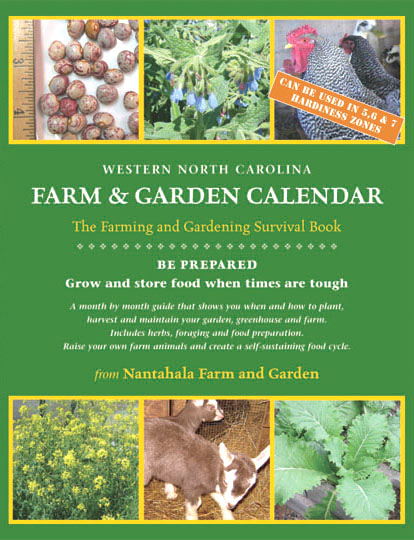 Survival Farm and Garden Book
for Zones 5, 6 and 7
with emphasis on Western North Carolina
A 280 page month-by-month guide when to plant, harvest and maintain your garden, greenhouse and farm. Includes farm animals. Plus garden tips, seed saving, plant families, and plant health. FREE PDF Download: Chapter for July in Book

Good for Tennessee, Georgia, South Carolina, Virginia, North Carolina and most eastern states. It can be used in most hardiness zones by adding or subtracting months depending upon your climate. Make your gardening easier. Buy your book today.

"LOVE THE BOOK!!! SO cool -thx. I REALLY think its a GREAT reference." -Noel, Highlands, NC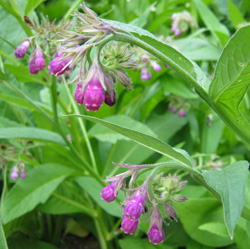 Goats, Chickens, Ducks, Comfrey, Seeds, Books
Nantahala Farm and Garden raises Toggenburg goats, Dominique chickens, Ancona ducks, and Bantam chickens. We sell comfrey roots and crowns for planting. We sell a comfrey booklet. You can buy seeds such as October beans, Greasy Beans, Mizuna, Mammoth Melting Peas, Bronze Fennel, Sea Kale and more. Give seeds for Christmas and Hanukkah, your friends and family will love it.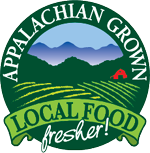 Toggenburg goats are dairy (milk) goats. We have doelings and bucklings for sale in the spring and summer. We sell poultry such as ducklings, ducks, chicks and chickens in the spring and summer. You can buy fertile hatching eggs. Comfrey planting stock is available in spring, summer and fall.

We offer Thorvin Organic Kelp for your farm animals and pets. It is also a good fertilizer high in trace minerals. Try Frontier dried comfrey root for making an herbal tea or poultice.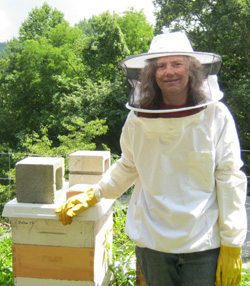 Sustainable Living
We are a small family farm growing our plants naturally and organically. We focus on diversity and sustainability. Our primary focus is not to make money but to help preserve valuable animal and plant breeds. We are constantly adding new seeds and plants.

Our eco-farm is a labor of love. We are happy to share our animals and plants with you so you have the same fun that we do. We are located in Nantahala in Topton, North Carolina, "Land of the Noon Day Sun".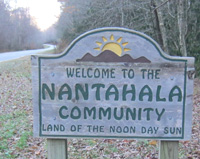 Rent Our Vacation Home
We have a single family home for short-term rental on our farm in Nantahala. Low cost, affordable housing for your holiday trip.Visit with our farm animals while you are here.

Enjoy local attractions such as whitewater rafting, hiking, fishing, boating, bird watching, scenic driving, picnicing, and many other activities. Mountains, lakes, streams, and farms. You'll have a good time. More information and photos.


Toggenburg Dairy Goats for Sale
Dominique & Bantam Chickens, Chicks & Hatching Eggs for Sale
Ancona Ducks, Ducklings and Hatching Eggs for Sale


Recommendations for Farming and Self Sufficiency

We recommend using organic fertilizers in your garden and farmland. A good source for fertilizers such as Rock Phosphate, Azomite, Kelp, Dolomite Lime, Greensand, and Sulfate of Potash is Countryside Organics. We are not associated with them. We just like them. They are in Virginia. If you order 44 bags of 50 pounds each, they will send it by pallet. They have distributors that may be close to you.

They carry supplements for animals such as Brewers Yeast, Diatomeceous Earth (also good for storing grain), Redmond Salt, Alfalfa Meal and others. They sell organic animal feed for goats, sheep, swine, poultry, cattle, horse, llama, alpaca and rabbit. They sell whole organic grains/beans/seeds such as corn, oats, flaxseed, field peas, barley and wheat.

We also recommend the site Survival Blog, "The Daily Web Log for Prepared Individuals Living in Uncertain Times". It includes information about: Disaster Preparedness, Self-Sufficiency, Contrarian Investing, Survival Logistics ("Beans, Bullets and Band-Aids"), Survival Tools, Survival Retreat Locales, Photovoltaic and Other Off-Grid Power, Communications and much more.

Distances to Nantahala Farm from nearby cities. Map of Appalachian Region.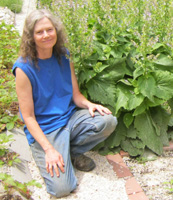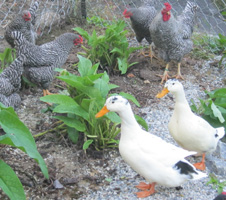 Find our farm, book, and vacation rental listing on Google+.


---

Ways to Pay

PayPal Shopping Cart: You can pay with PayPal online using our shopping cart. You do not have to have a PayPal account to pay with your credit or debit card.

PayPal Money Request or Invoice: We send a PayPal Money Request by email. You pay online. This is good for all orders but especially those that combine shipping or have special pricing.

Credit/Debit Card Online (No PayPal): If you want to pay by credit/debit card but do not want to use PayPal, we can email you an invoice to pay with a credit/debit card. In the email there will be a link to take you to a payment page. Call or email us with your email address, though emailing is preferred.

Check: We accept checks or money orders. Checks need to clear before shipment. Make check payable to Nancy Shirley. Mail to 477 Long Branch Road, Topton, NC 28781. Please include shipping.

Phone: We accept credit/debit cards by phone: MasterCard, Visa and Discover. Call us in North Carolina at 828-321-9036 any day, 9 am to 8 pm Eastern time.

Barter: We are open to bartering especially when it involves sustainable living. Email us with your ideas.


If you are ordering many products, we can discount the shipping. Email us and we will give you a lower shipping cost than what is on the PayPal cart.

We ship to everywhere in the United States. The only exception are chicks, ducklings and goats need to be picked up at the farm.

The photos to the right are Nancy in her garden, tools for working in a comfrey patch, and Nancy's flower garden (day lily, anise hyssop, catnip).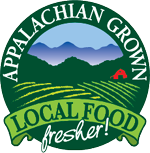 Nantahala Farm in the Mountains of Western NC
Macon County (close to Cherokee, Graham and Swain Counties)
Topton, North Carolina 28781
Location Map
By appointment only
828-321-9036
Please call between 8 am and 9 pm Eastern time, any day.
Email:
orders@healthtreasures.com

Please support small farms and sustainable living.
We are happy to answer your questions about farming and gardening.
Let us know any comments or suggestions you have about our site, farm or products.
We can add your testimonials so others know your experiences and ideas.
We may be interested in barter. Let us know what you have to offer.
We ship to the United States only.
Give seeds for Christmas and Hanukkah, your friends and family will love it.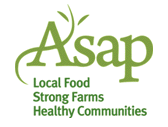 RENT OUR VACATION HOME

Rental House on Farm
ANIMALS AND POULTRY FOR SALE

Toggenburg Goat
|
Dominique Chickens
|
Bantam Chickens
Ancona Ducks
BUY BEANS AND PEAS FOR PLANTING

October Beans
|
Rattlesnake Beans
|
Greasy Beans
Mammoth Melting Peas
LEAFY GREENS: SEEDS FOR PLANTING

Perennial Sea Kale Seeds
|
Mizuna Seeds (Japanese Greens)
BUY SEEDS, ROOTS, BULBS AND PLANTS

Comfrey Plants and Seeds
|
Perennial Bronze Fennel Seed
|
Mangel Beet Seeds
Music Garlic
|
Ferry-Morse Seed Packets
|
Perennial Plants
PURCHASE HERBS, FERTILIZERS, FEED SUPPLEMENTS

Frontier Comfrey: Dried Root and Leaf
|
Organic Thorvin Kelp from Iceland
Azomite Trace Minerals Powder
BOOKS, VIDEOS, HEALTH SUPPLIES, AND FARM EQUIPMENT

Farm and Garden Calendar
|
Farm & Health Books
|
Buy 12 Health & Diet Books, Bulk
Dr Day Workbook & VHS Tapes
|
Future of Food DVD
|
Krystal Salt Rock Crystals
Comfrey Booklet
FARM SITE RESOURCES

Home
|
Farm/Garden Advice by Phone
|
Pay with Paypal
Pay with Major Credit Cards
|
Privacy and Refund Policies

"Western North Carolina Farm & Garden Calendar" on Facebook.
All rights reserved. ©2008-2013